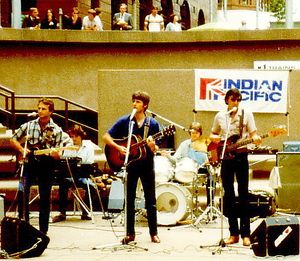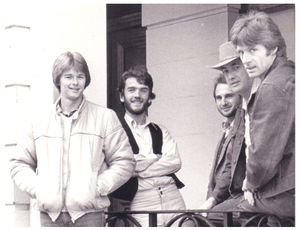 Indian Pacific was formed in 1980, when its two founding members were jointly booked on a gig. James Webb and John Cowgill were each jaded with the eternal round of working casual gigs in pick up bands. Each also wanted to try something different and decided country music was it. They auditioned for other members, a process that lead to the final line-up of: James Webb (vocals and guitar), John Cowgill (bass and vocals), Phil Beazley (lead guitar), Lindsay Morris (keys and backing vocals) and Mark Kimmorly (drums and backing vocals).
     The band saw out 1980 performing popular country with residencies at the Hotel Manly and Miranda Businessmen's Club. Having found their stride they decided to toughen their sound and re-positioned themselves as a "rock country" style which draw from Southern Rock, L.A. Sound which included covering such artists as Jackson Browne, The Eagles, J J Cale, Atlanta Rhythm Section, Allman Brothers and Jimmy Buffett.
     Late in 1981 Indian Pacific secured residencies at South's Leagues Club and the North Annandale Hotel. These weekly gigs were filled out with numerous casual and recurrent bookings, including with the City of Sydney.
    In Jan 1982 they recorded a self-titled album of original songs by James Webb. The Album was engineered by Clive Shakespeare (Sherbet) and produced by Graham Wardrop (Anne Kirkpatrick, Slim Dusty).
 
---
James' comments about the 2 tracks below -
Hello Texas was recorded live (Ca 1983) at the Lone Star Café which was at the corner of Dixon and Liverpool Streets in Sydney.
      Country Girl was written by Dave Tyne from the band Grand Junction and included on their self-titled 1981 album. In late 1981 we performed our version at the Tamworth Music Festival and Dave, who had been in the audience, came up to me and said he wished they'd recorded it the way we played it.