Generic Media Release, Jan 2014
James Webb, singer-songwriter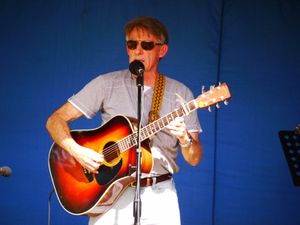 Son Of Jack is singer-songwriter James Webb. As a performer he features songs that tell a story or in some other way deal with the complexities of the human condition. As well as performing his own material he picks from the best of great songwriters such as Jackson Browne and Leonard Cohen. 
James has been well received by local audiences, particularly for his ability to touch people with his stories. "Not everyone can tell their own story", he says, "but because most stories are universal, I hope that with my songs I can sometimes tell other people's stories for them." Peter Lino of Tintenbar Up Front puts it this way, "James is a songwriter who shares perfectly formed flakes of his life in his personal songs."
James Webb gave up professional music in the late 80's to meet the demands of his business career, leaving behind his longstanding roles as writer, guitarist, arranger and producer. Moving to the NSW North Coast in 2005 re-awakened his passion for songwriting and performing, supported by an eventful history and an interest in the lives of others.
James Webb's 2011 album "Desperation", which spans the genres of rock and folk, recounts such stories. The album is available online at http://sonofjackwam.com/home.
(Release: Jun 2014)
For PDF version CLICK
For further profesional media enquiries, use Contact tab.